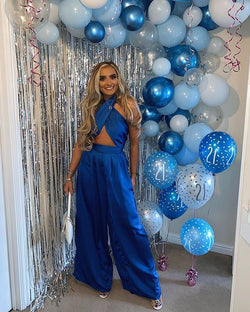 For my 21st Bday
I received it in less than 10 days, the measurements are accurate. I'm happy with how I looked.
Purchased: Gabby Satin Set
Wore it to a Wedding
The dress is spectacular. True to size and very flattering. Thank you SunsetFashionLA.
Purchased: Rachel Satin Maxi dress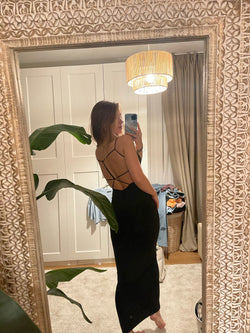 Hot dress
I can't stop wearing it!!!
Purchased: Monella Cut Out Backless Spaghetti Strap Dress
Awesome...
I loved it, thank you very much. Everything exactly as described and even better the fabric is super soft!
Purchased: Astrid Off Shoulder Satin Dress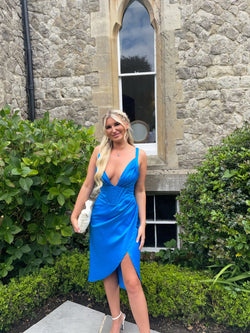 Happy with my purchase
I got it for a wedding in Italy and received tons of compliments. I'll buy it in other colors.
Purchased: Allegra Satin Dress
Chanel-Style classy set
The set is beautiful!!! Very thick and heavy! The buttons are a dull gold color, and the set is white with Iridescent white color. I'm a US 9/10 and I ordered a XL.
Purchased: Gabriella Two Piece Blazer And Shorts Tweed Set
Obsessed
Obsessed with this dress and color.
Purchased: Morella Satin Dress With A High Slit
Super cute
Super cute and sexy for going out and clubbing. Comfy and stretchy mesh material.
Purchased: Scarlett Mesh Long Sleeve Cut Out Dress
Great quality
It's just like in the picture I love it! But I would size down.
Purchased: Belle Bandage Dress
Beautiful dress
So beautiful, I'm actually surprised how well it fits.
Purchased: Blair Cut Out Satin Mesh Dress
Welcome to SunsetFashionLA!
We are an online fashion store for women, dedicated to bringing you the latest styles and trends from the city of angels. From casual streetwear to special occasion pieces and trendy clothes, we have something for every fashion-forward individual. And even if you're entirely new to fashion or want to explore the fashion world, this online shopping site for women would serve as the ideal guide for you.
Our women's clothing website aims at providing you with a unique and enjoyable shopping experience, where you can find the perfect outfit for any occasion. The stylish women's clothes in our store are carefully selected by fashion experts to give you the best experience of your shopping moments. 
We bring to you the best of the best in a range of sizes, ensuring that every body type can look and feel their best. And even if you don't know what to wear for your next big event or you're looking for comfortable clothing to casually slip on, we detailed some style tips under each category to help you find the perfect look.
We guarantee you that when you shop fashion clothing for women online right on our site, you'd definitely want to come back for more. For now, come with us!
The Best-Selling and Trendy Products on Our Women's Clothing Website
This set is everything stunning, everything baddie, and everything chic. It consists of outfits perfect for making a statement and tuning in to the edgy vibes. Some of the outfits in the collection include the Rylee vegan leather bandage dress with a cut-out, the Ella mesh cut-out dress with drawstrings, the Blake print cut-out backless summer dress, the Sommer push-up underwire cut-out top, the Scarlett mesh long sleeve cut out dress, Lenora halter mesh top and ruched skirt two-piece dress, Kehlani halter crop top and twist side split skirt two piece cut out dress, and the Phlia sequin pleated dress.
First on our looks for the soft Romance collection is the Adeline mesh bandage dress with tassels. Get ready to turn heads at your next event in this stunning Hollywood Glam dress. It features a slick tassel design and a chic, body-hugging fit. This dress is a timeless staple that matches up with modern trendy fashion styles. It is perfect for a night out, a party in town, a homecoming, or even a birthday party. 
Other striking outfits from this collection in our ladies' clothes shop are the Blair cut out satin mesh dress, the Zaynab satin dress, the Joelle satin ruched dress with rhinestones, the Lyrica bandage rhinestone dress, the Lillian lace corset long-sleeve top, the Siobhan satin corset dress with rhinestones, the Rillo corset strapless tops, the Shani bandage rhinestone dress, the Maggie one shoulder bandage dress with ruffles, the Yvette halter mesh dress, and the Talina satin backless dress with a side split.
The Overall Best Sellers on SunsetFashionLA 
Want to know what a sample of the latest and greatest offers at SunsetFashionLA looks like? Here they are - The Valencia knitted long sleeve top, the Violet sequin feather dress, the gold tarnish-free small hoop earrings, the Paris puff sleeve mesh dress, the Sofia black mermaid gown, the Party in the hills bandage dress, the edgy vegan leather biker jacket with gold buttons, the Alison handbag, and the statement maker halter sequin gown dress.
So whether you're looking for casual or dressed-up styles, we have something to suit every taste and occasion. They are perfect for day or night and available in the women's clothing online store in stunning prints and effortlessly stylish designs.
Dresses in Our Women's Clothing Online Store
Shopping by length? Our collection has a wide range of mini, midi, and maxi dresses. 
Or you've got a style in mind? Be it one shoulder dresses, off-shoulder gowns, long-sleeve attires, bodycon fits, cut-out apparel, backless get-ups, halter dresses, blazer dresses, two-piece sets, ruched outfits, strapless garbs, or slip frocks. SunsetFashionLA is that fashion online store for women with all the dresses to make you look stunning at your next event. 
Wouldn't it be amazing to shop from our women's clothing store in a variety of clothing fabrics - bandage, satin, knit, sequin, velvet, sweater, mesh, rhinestone, or lace? 
Also, your favorite color shouldn't stay locked up in your heart, create an explosive look in your perfect hue. Our collection features dresses in black, white, pink, blue, light blue, beige, khaki, brown, green, yellow, orange, fuchsia, burgundy, purple, gold, silver, and lots of other color blends.
Want to play dress up at your next big occasion but with zilch ideas on what to wear? No worries girl! Whether you've got a birthday, party, night out, cocktail, club, wedding, vacation, casual, homecoming, graduation, prom, or work party to look gorgeous at, our online shopping site for women clothing categorized dress ideas just for you. 
We also have edits in seasons. Your fall, winter, summer, and spring looks should have some freshness in them. And, we made sure of that!
Other Lovely Picks From Our Online Shopping Site for Women
Thinking tops? We've got them too. Crop tops, corset tops, bodysuits, blouses, shirts, tees, sweaters, cardigans, casual tops, long sleeve tops, dressy tops, sexy tops, jackets, and blazers are all available. We didn't skip the bottoms you can pair with them. Try out our skirts, pants, or shorts, and you'd definitely come back for more.
"Variety is the spice of life." Our two-piece set dares to be different with its unique aesthetic feel. We've also got athleisure, sleepwear, and lingerie that you would love to buy on our online store. 
Timeless accessories to amp up your looks even though you already look fire - jewelry pieces. Our online fashion store for women has show-stopping earrings, necklaces, bracelets, and rings fully in stock. There are also shoes, bags, hats, and sunglasses to complete your look.
No Second Thoughts on Buying Cos There's None
What do you think about free shipping on orders over $100 and easy returns? Or getting a free jewelry piece when you buy 2 or more dresses 👗+👗=💎, Using the CODE: FREEBLING! Probably something you would want to jump on immediately and save some cash.
Don't say later, order now. For each and every minute that passes by without you ordering, you're more likely going to miss out on some of our special offers. We don't want that for you, and we bet you wouldn't too.
The closer and closer you are to order your statement pieces, we want you to know that there are no hidden fees and zero interest payments if you decide to pay in installments.
Our installment payments are in partnership with Shop Pay. This offers you the option to either pay in full at checkout or to split your purchase into 4 bi-weekly payments with Shop Pay Installments. Think about it, "No additional charges or interest rates applied!" 😲
Ready to stir up any audience with your SunsetFashionLA ensembles? Start here!